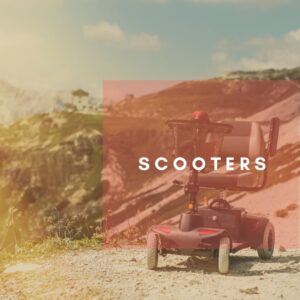 When Is It Time To Buy A Mobility Scooter?
As we get older, moving around doesn't get any easier. We lose bone density over time, muscles weaken, and keeping balance becomes more difficult. Luckily there are many different models of mobility scooters available to fit your medical needs and your everyday lifestyle.
What Is a Mobility Scooter?
Maybe you are just starting your research and trying to figure out what kind of scooter is best for you. Luckily, you're in the right place! Essentially, a mobility scooter is a piece of Durable Medical Equipment that is designed to make the activities of every day life easier on our aging bodies. Mobility scooters have very strong, durable frames, either 3-wheels or 4-wheels, a tiller for steering and automatic brakes. When the operator is not using the scooter, it automatically stops. These can move both forward and reverse when needed. Mobility scooters do not resemble the conventional wheelchairs you may be used to, but they are very comfortable and safe to use. Many mobility scooters these days include bright LED lights on the front to show others you are heading their way! 
Choosing The Right Mobility Scooter
When choosing a mobility scooter, there are a few very important pieces of criteria to consider:
Where will you be using your scooter?
This matters because 3-wheel scooters are made with a tighter turning radius which is more optimal for in-home use. While 4-wheel scooters have more stability, they aren't always suitable for travelling due to their heavy-duty nature.
Do you plan on travelling with your scooter?
Only some scooters are allowed on planes, because of the battery type they use.
While we know it isn't technically polite to ask for your weight, this is a big factor in finding the right model for you as they all have varying weight capacities.
Types of Mobility Scooters
With so many options of mobility scooters available, we thought it would be helpful if we break it down:
Folding Scooters: If you're looking for something that will literally fold up and fit in the back of your trunk, then folding mobility scooters are worth looking into. There are two different styles of folding scooters, one is automatic and one if manual. Those who want to use a folding mobility scooter without paying a big price would be better off gravitating towards a manual folding scooter like the Pride Go-Go. Be sure to add the lithium-ion battery option if you wish to travel on planes or go further distances in town. 
Travel Scooters: The name gives it away. Travel scooters are designed for ease of use when travelling since they are often more lightweight than their counterparts and disassemble easily into a few pieces. If you aren't comfortable lifting heavy objects, it's important to pay attention to the "Heaviest piece when disassembled" which you can find under the product specifications, or use as a filter option when shopping on our website. These are often more cost effective than folding scooters and have an average travel range of 5-15 miles per charge depending on the battery pack. 
Full Size Mobility Scooters: We highly recommend full size scooters for general every day use. It's important to note that if you plan on travelling with a full size model, you will most likely need a vehicle lift as well. If you're looking for a Full Size Scooter, we love the Pride Go-Go Scooters. These models are often more comfortable, have a longer range, stronger motor and even the ability to go off-road in some cases. Researching the ground clearance of the model scooter you're looking into would be wise if you plan on using it outdoors. 
Heavy Duty Scooters: Heavy duty mobility scooters are the way to go if you're looking for extreme comfort, safety and using it at home. These are not easy to travel with based on their sheer size. Most heavy duty scooters will not fit on a vehicle lift and require a trailer. Since the factors are top-notch, the price of these is often reflected. 
Recreational Scooters: It should be noted first that recreational scooters are not meant to treat or assist as a medical device. These are meant for a fun afternoon cruise when you're low on energy and crave the wind in your face. These are usually not as stable, or designed for long term comfort but you'll be sure to have a good time and wear a big smile! The iRide by Pride comes in so many colors too, get ready to express yourself in bright shades like lime and mango! 
Have questions?
Independent again is here for you every step of the way in your mobility journey. You can call our office Monday-Friday from 8:30 a.m.- 5:30 p.m. Eastern Time to speak with a knowledgeable member of our staff.
Additionally, you can reach us through the chat on the website! If we aren't readily available someone will get back to you within two business days. Please leave your name, number, or email address so we know how to best contact you.
Resources
You can always visit our vendor's website to see the full details and specifications of every model. We love working with:
Not sure if a mobility scooter is right for you? We also sell Power Wheelchairs
We also have a lot of mobility scooters listed in our Open Box & Demo Specials too!