Description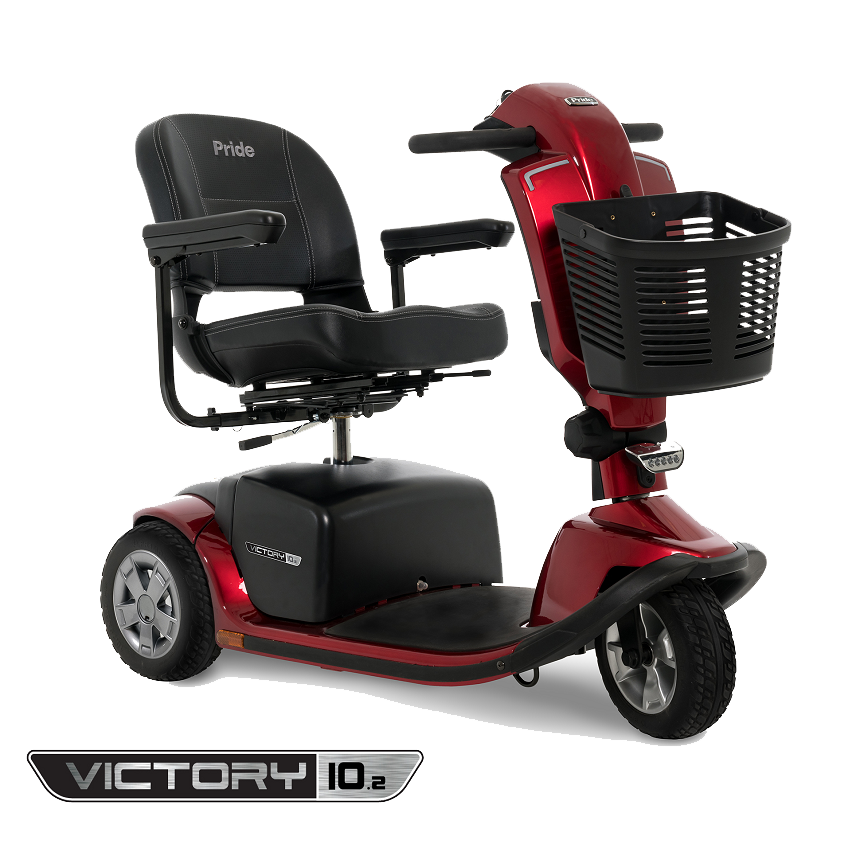 The newly re-designed Pride Victory 10.2 3-Wheel!
The latest updates to the popular Victory line from Pride are here!  Pride has re-designed the Victory to accentuate its great style with new features to enhance its performance.  The modern tiller brings you the convenience of additional storage and built-in cup holders.  The tiller also includes a handy USB charging port to charge your cell phone while riding around during a busy day. New frosted LED headlights will focus on the path ahead to help guide you on your way. There are so many reasons to love the Pride Victory 10.2 3-Wheel Scooter!
Personal comfort and positioning are priority with choices between an 18" or 20" wide seat that swivels 360 degrees and locks at each 90 degree.  Additionally, to assist with reaching the tiller, the seat can slide forward and backward to cater to the user's need.  Instead of stooping and bending your back to reach the battery charging port on previous models, the new charging port is conveniently located on the tiller so it's easy to reach. The tires are non-scuffing, solid, and flat-free. Taking apart your scooter for transport is also a breeze with Pride's easy feather-touch disassembly for the body of the Victory. Never worry about having a flat tire again with this awesome design.
What Makes This Different
The sturdy and stable Victory 10.2 4-wheel is one of the few scooters in its price range with a generous 400 pound weight capacity to accommodate more users. The standard seat slides forward and back, like an automobile seat would, allowing you to adjust to your perfect position. Additionally the seat swivels 360 degrees for easy on and off access. The seat swivel has the ability to lock at each 90 degree interval for easy entering and exiting.
Why We Like It 
The Victory is a scooter that covers all the bases.  A scooter that has the size to handle the outdoors, but is also compact and nimble enough to navigate inside your home.  The Feather-Touch disassembly system allows you to take the scooter apart without difficulty. This means it can be transported in a trunk or cargo area of a vehicle when needed.  A 47" overall length accommodates taller users who typically have to get much bigger scooters that are not able to be disassembled or used indoors.  The 400 pound weight cap allows for a much greater range of users that are able to enjoy the Victory.
Not quite what you're looking for? We think you'll really like the Victory 10 3-Wheel Scooter
You can also view all of the Victory 10.2 3-Wheel Specifications here
FDA Class II Medical Device*