Description
Overview of the ZooMe Flex
The ultra-transportable, ultra-convenient ZooMe Flex folding travel scooter by Drive Devilbiss Healthcare has an innovative lightweight design that easily folds and unfolds in one simple motion. Once folded, the ZooMe Flex is incredibly compact for storage or transport, so it's an ideal solution for travel or day-to-day use. Save a few extra bucks and shop the open box drive zoome flex folding scooter.
What Makes It Different
The ZooMe Flex might be compact, but no detail was spared on this pint-sized powerhouse. While most foldable travel scooters have standard, straight-handled tillers, the ZooMe Flex features a delta tiller, making it easy to steer as well as ideal for users with limited dexterity. The tiller is height and angle adjustable for ideal positioning of the scooter's controls, and the armrests are adjustable with padded tops for comfortable cruising.
Why We Like It
The ZooMe's four wheels feature low-maintenance flat free, non-marking tires. With four wheels, the ZooMe is stable on a variety of terrains, but it also features rear anti-tip wheels for extra security. When you're ready to pack the ZooMe, just fold the seat back down, pull the handle up on the foot deck, push the ends of the scooter together and you're ready to go. We also like it because the flex features a lithium ion battery for even longer distances to travel. Extend your adventures with the open box drive zoome flex folding scooter.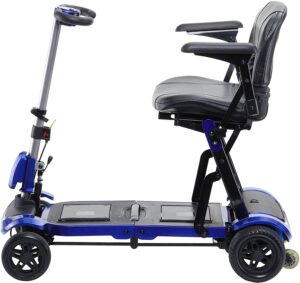 Keep On Shopping Folding Scooters
Shop Our Folding Scooter Selection
Resources