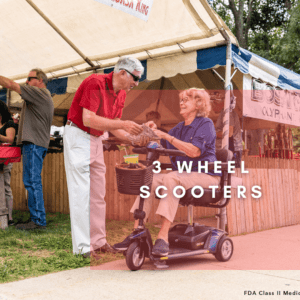 Why Choose a 3-Wheel Scooter?
There are so many different makes and models of 3-Wheel Mobility Scooters, so it's important to take a few things into consideration when choosing your next scooter.
Where will you be using the 3-wheel mobility scooter?
If you plan on using your scooter only inside the house, then a 3-wheel mobility scooter is probably your best option. 3-Wheel Scooters offer excellent maneuverability because of their tight turning radiuses.
Will you be travelling with it?
3-Wheel mobility scooters are often easier to travel with because they are more lightweight than their 4-Wheel counterparts. There are even models that are designed to fold to make travelling a breeze! Whether you plan on stowing it away in your trunk or on your next plane ride, there are plenty of scooters suitable for your lifestyle needs.
What's your budget?
3-Wheel Scooters are also more cost effective in most cases so there is an added benefit there too!
Have questions?
Independent again is here for you every step of the way in your mobility journey. You can call our office Monday-Friday from 8:30 a.m.- 5:30 p.m. Eastern Time to speak with a knowledgeable member of our staff.
Additionally, you can reach us through the chat on the website! If we aren't readily available someone will get back to you within two business days. Please leave your name, number, or email address so we know how to best contact you.
Resources
You can always visit our vendor's website to see the full details and specifications of every model. We love working with
Not sure if a 3-Wheel Mobility Scooter is right for you? Check out some of our featured 4-Wheel Models: https://independentagain.com/mobility-scooters/4-wheel-scooters/